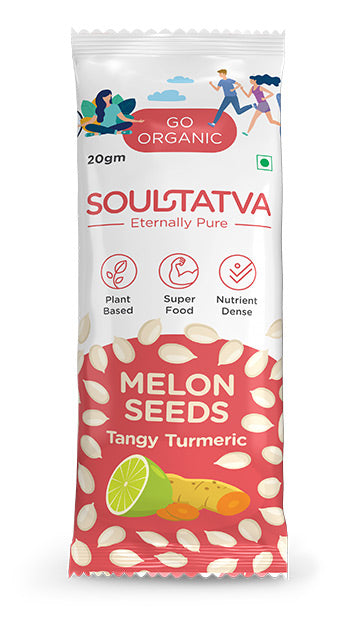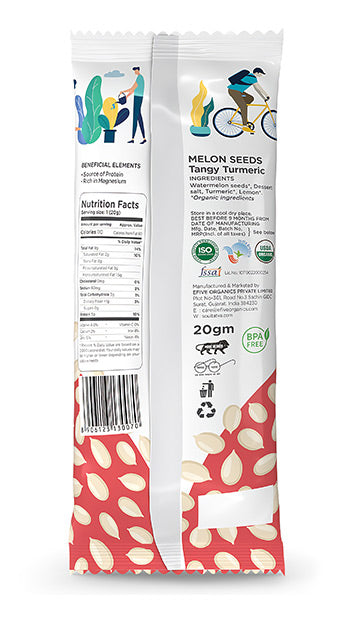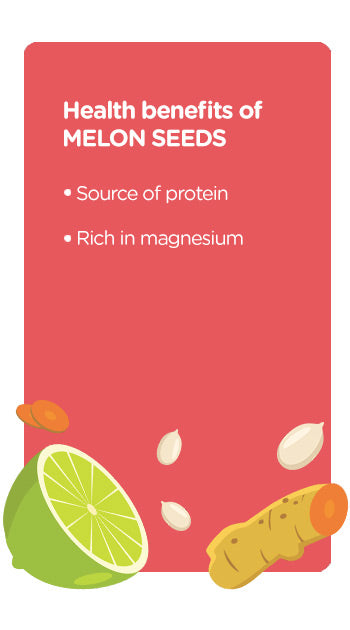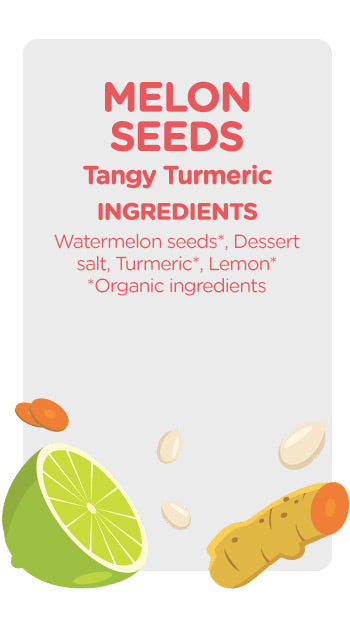 Melon seeds properties & benefits
Regular price

Rs. 252.00

Sale price

Rs. 240.00

Unit price

per
MRP price including all taxes
Melon Seeds Tangy Turmeric
100% Organic,Gluten-free, Vegan-friendly, No chemical preservatives, No Chemical additives, Not genetically engineered and Freshly Packed.
An ideal addition to vegetarian, vegan, whole food, paleo, ketogenic, and gluten-free diets.
Can Enjoy as, Healthy snacking, DIY granola, add them as your salad topping, sprinkle them to your cereal; oat meal, add them to your smoothies, bread topping, bake it with your granola bars.
Seeds arrive ready in easy to use, BPA-free packaging
Farm to Table, Product of India.
Versatile and delicious, Soul Tatva Watermelon Seeds are a welcome addition to your diet. A healthy snack, and a delicious condiment, it is fit to be baked, cooked and blended with- adding a unique and healthy flavour to your food.
Tangy and Nutty Fusion
The tangy turmeric flavor beautifully fuses with the nuttiness of melon seeds, creating a snack that's both intriguing and delicious.
Unique Snacking Experience
Elevate your snacking experience with the Melon Seeds Tangy Turmeric pack, a unique blend that's sure to become a favorite.
Wholesome Spice
Embrace the wholesome spice of turmeric in every melon seed, enjoying a snack that's both flavorsome and nourishing.
Golden Delight
The Melon Seeds Tangy Turmeric pack is a golden delight that combines the earthy warmth of turmeric with the crunchiness of melon seeds.
Wellness in Every Seed
These melon seeds offer wellness in every bite, with turmeric's anti-inflammatory properties enhancing the goodness of the seeds.